Day 159.

This marinade was a nice change for pork. We don't usually grill pork, but this was really, really good.

Here's what you'll need.


1 cup soy sauce
1/2 cup water
6 tablespoons brown sugar
1 teaspoon ground rosemary
4 pork chops.



Combine soy sauce, water, brown sugar and rosemary in a bowl.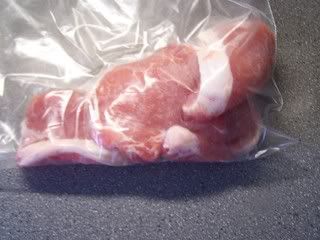 Place the pork chops inside a zip top bag.



Pour half the marinade over the top. Store the rest for basting. Zip the bag shut and chuck in the fridge for 3 hours or overnight.



Grill until no longer pink in the center, basting as you grill.