Day 150.

I remember making these as a kid, so Amelia and I make them somewhat often. :)

Here's what you'll need.


1 English muffin for each person
Tomato sauce or Pizza sauce
Toppings of choice (pepperoni)
Shredded mozzarella cheese

Preheat oven to 350*



Split each muffin in half.



Place on a foil lined baking sheet.



Spread sauce on each half.



Top as desired.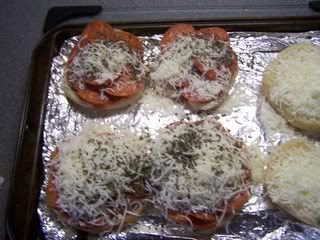 Sprinkle with cheese. We put on a little bit of basil too.

Bake at 350 for about 10 minutes, or until bottoms are toasty and cheese is melted.