Day 121.

The idea of stuffed bread has always interested me, but I've been to chicken to try it. Until I got a new bread machine. I figured the machine did most of the work, so I would go ahead and try some stuffed bread. I'm glad I did!

Here's what you'll need.


1 1/4 cups water
1/4 cup olive oil
1 teaspoon ground rosemary
1 teaspoon black pepper
1 1/2 teaspoons salt
3 cups bread flour
1 tablespoon yeast
1/2 cup sundried tomatoes
4 ounces cream cheese or goat cheese
2 tablespoons olive oil
coarse salt



Begin by placing the water, olive oil, rosemary, black pepper and salt into bread machine pan.



Add flour and yeast. Process on dough setting.



Meanwhile, chop the tomatoes into strips.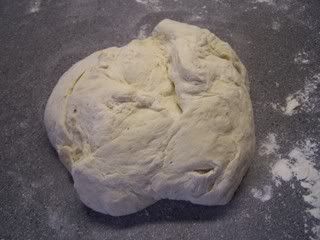 When the dough has finished processing, place it onto a lightly floured surface.



Divide the dough into two pieces.



You'll need a 9 or 10 inch springform pan, sprayed with nonstick spray.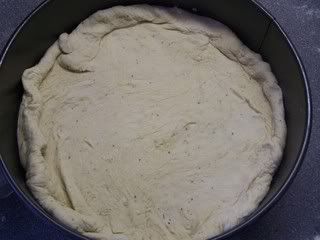 Roll out half of the dough to fit into the bottom of the pan.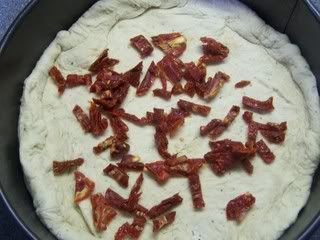 Place the tomato pieces onto the dough, leaving about an inch border all around the pan. You would probably want to add the cheese here too. If you're using cream cheese, just pinch off pieces and place them onto the dough.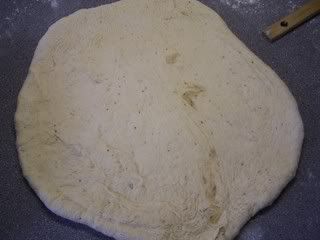 Roll out the remaining piece of dough to fit the pan.



You'll want to dip a pastry brush into a little big of water, and lightly wet the edges of the bottom dough.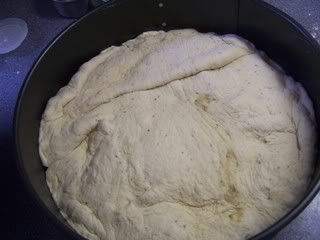 Place the top dough onto the bottom dough and press the edges to seal.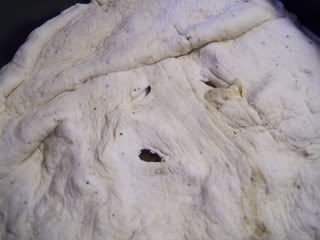 Cut three vent holes in the top.



Cover with plastic wrap, and let rise for 30 minutes or until doubled in size.



Like this.

After it's doubled, preheat the oven to 475*.



Using the tips of your fingers, make some small indentations in the top of the dough.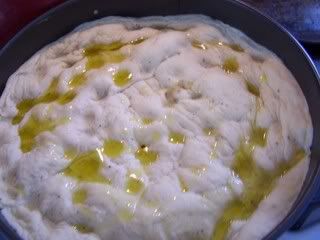 Pour the 2 tablespoons of oil over the top and sprinkle with coarse salt.



Bake for 20-25 minutes or until golden brown. Release the springform sides and let sit 10 minutes before cutting.

Serve hot or at room temperature.