Day 120.

I had never made a dutch apple pie, but I love the crumbly topping on it. I found this recipe, and it sounded good, so I thought I'd give it a try.

Here's what you'll need.


2 cups flour
1 cup brown sugar
3/4 cup butter or margarine, melted
1/2 cup quick cooking oats
2/3 cup sugar
3 tablespoons cornstarch
1 1/4 cups water
3 cups apples, peeled and sliced
1 teaspoon vanilla

Preheat oven to 350*



Combine flour, brown sugar, butter or margarine and oats.



Mix well. Set aside 1 to 1 1/2 cups of the mixture for the topping.



Press remaining mixture into a 9 inch pie pan.



For the filling, combine sugar, water and cornstarch in a saucepan. Bring to a boil and boil for 1 minute.



Remove from the heat and stir into the apples. Stir in vanilla as well.



Spoon filling into pie pan.



Now, it didn't call for this in the original recipe, but I sprinkled some cinnamon and sugar on top of the apples. :)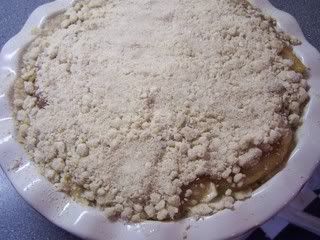 Press the remaining crumb mixture onto the top of the pie.



Bake pie at 350* for 45 minutes, or until golden brown.