Day 141.

This recipe is a copy cat of TGI Friday's bruschetta chicken pasta. I love this dish and order it practically every time we go. Makes sense to figure out how to make it at home, right??

Here's what you'll need.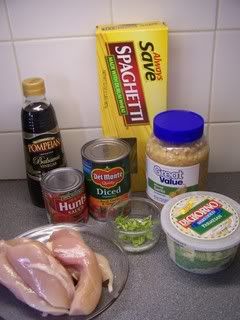 4 boneless, skinless chicken breasts
1 lb. pasta
1 can diced tomatoes with basil, olive oil and garlic
2 cloves garlic
1/2 cup tomato sauce
1 cup balsamic vinegar
1 tablespoon sugar
Fresh basil and Parmesan cheese for garnish



In a small saucepan, combine balsamic vinegar and sugar. Bring to a boil and reduce by 75%.



Drain some of the juice from the tomatoes.



Cook pasta according to package directions.



Dice chicken into bite-sized pieces, season with salt and pepper, and cook in a skillet until browned.



When pasta is cooked, drain and add chicken to the pan as well.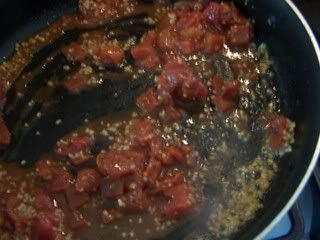 In the same skillet that you used to cook the chicken, combine the garlic and diced tomatoes. Cook briefly.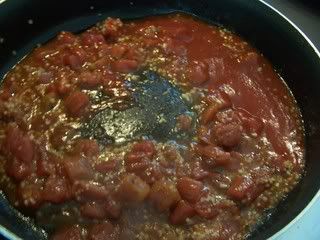 Add in the tomato sauce, and cook until just heated through.



Add to the chicken/pasta mixture.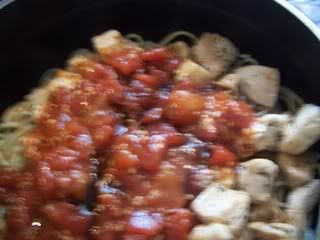 Remember that balsamic vinegar reduction? Add it now.



Place into a serving bowl and garnish with fresh basil and Parmesan.