Day 133.

This recipe makes the best chicken and potatoes. The chicken is well seasoned and the potatoes are wonderfully tender.

Here's what you'll need.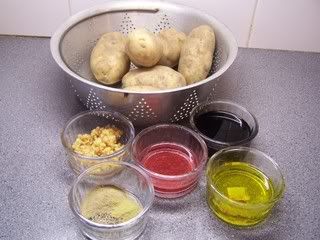 1 1/2 lbs potatoes
1/3 cup soy sauce
3 tablespoons olive oil
2 tablespoons red wine vinegar
2 cloves garlic, diced
1 teaspoon oregano
1 teaspoon rosemary
3/4 teaspoon pepper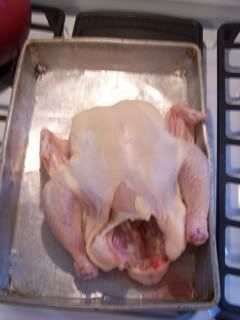 And one whole chicken.

Preheat oven to 375*



Begin by slicing the potatoes in half, then into slices.



Combine soy sauce, vinegar, oil, garlic and spices in a bowl.



Whisk well to combine.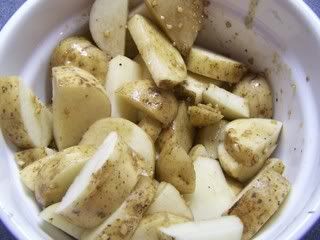 Pour 2 tablespoons of mixture over the potatoes. Toss well to coat.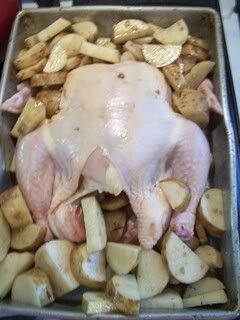 Arrange potatoes around the chicken.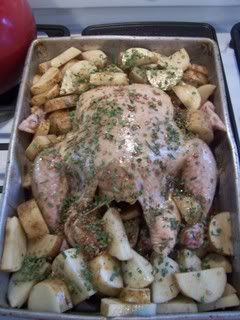 Pour remaining sauce over the chicken. Sprinkle with chives or parsley, if desired.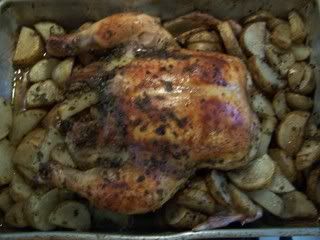 Bake at 375* for 1 hour 15 minutes (or until meat reaches 180*) , basting every 30 minutes.



The basting will give you a nice, brown crust.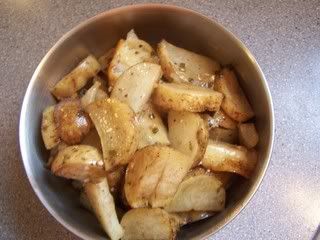 Serve with the potatoes.