Day 59.

Third and final post of the Thai feast!

This chicken was the reason I decided to have the feast. I had eaten this with my friend, Jennifer, in St. Louis when we went to The Pioneer Woman's cookbook signing. Funny thing is, Jennifer and I had not met before we road tripped to STL. She is the sister-in-law of my friend, Lori. Lori was supposed to go as well, but got sick, so Jennifer and I decided to go ahead. We had a blast! Across the street from the book signing, there was a Thai restaurant, so that's where we ate. This is what I had. It was amazing there. Making it at home, I've decided to make some modifications for next time. I'll type out the recipe as written, but clue you in on my changes as well. The recipe is written for one serving, but I quadrupled it since I was serving 4, so the pictures may not totally jive with the written recipe.

Here's what you'll need (One serving)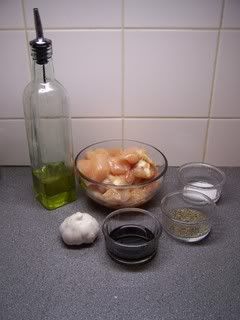 1 boneless, skinless chicken breast, diced into bite sized pieces
1/4 c. garlic cloves, smashed (about 1/2 head)
3/4 tsp. palm or white sugar
3/4 tsp. black pepper
1 3/4 tsp. soy sauce
1-2 tbsp. cooking oil, enough to coat pan
2-3 tbsp. water



Break garlic cloves off the head.



Using the back of your knife, press on the clove, separating the skin, and smashing it a bit.



The aftermath. Remember, I quadrupled this, so I used 2 heads of garlic!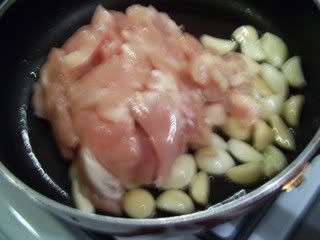 Heat the oil in a pan, then add the garlic. Cook for about 10 seconds, then add chicken. Cook until browned.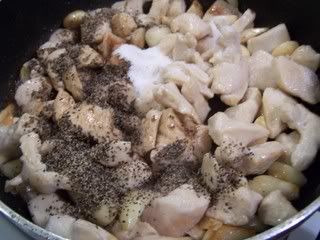 Add the sugar, pepper and soy sauce to the pan.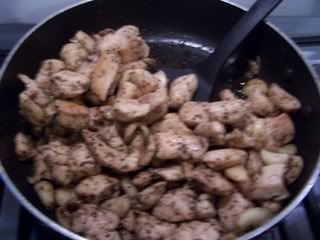 Stir well to combine. Serve over rice.


**Now for the changes**
1. Be sure to actually "smash" the garlic. I had too many whole cloves, and needed to crush them better to get more garlic flavor.
2. Cut the pepper in half. There was waaaayy too much pepper flavor, and not enough garlic. I think change #1 will help with that too.