Day 37.

We went out for supper tonight after a rather crap-tacular day, so I thought I'd make this for the blog since I had apples that were needing to be used.

Here's what you'll need.


10 cups apples, peeled and sliced
1 cup white sugar
1 tablespoon all-purpose flour
1 tsp. cinnamon
1/2 cup water
1 cup quick cooking oats
1 cup all-purpose flour
1 cup packed brown sugar
1/4 tsp. baking powder
1/4 tsp. baking soda
1/2 cup melted butter

Preheat oven to 350*



Place the sliced apples in a 9x13 pan.



Mix together the white sugar, 1 tablespoon flour and cinnamon.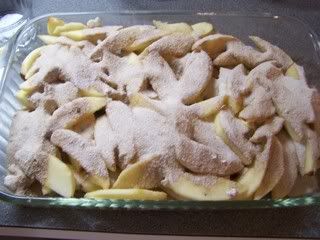 Sprinkle the mixture over the apples.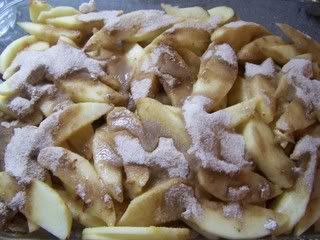 Pour the water evenly over all.



Combine the oats, 1 cup flour, brown sugar, baking powder, baking soda.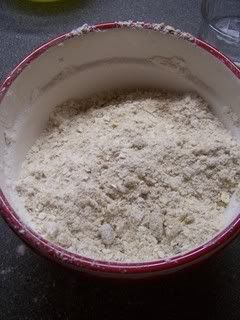 Stir well.



Add the butter, and stir until the mixture is well combined.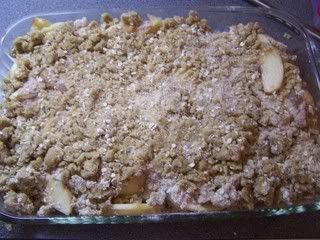 Crumble the mixture over the top.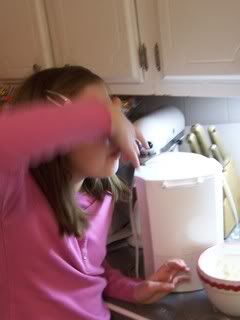 Let you faithful assistant help you get all the crumbly goodness outta the bowl.

Bake at 350* for 45 minutes.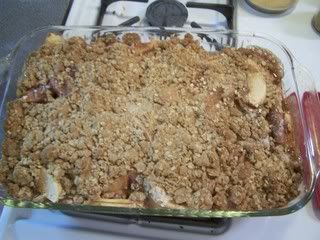 Serve warm.



Ice cream is good here as well.

I really like this recipe. Most other apple crisps I've made don't use water. The water in this particular recipe work with the sugars to make an caramel-like syrup that's fantastic. I hope you'll try this one!