Day 33.

Ah. Tater tot casserole. So. Good. I know that some TTC recipes involve cream of somethingorother soup. Bleecch. Not here. That stuff grosses me out. Except cream of potato soup. For some reason I'm okay with that.

This is a purist recipe. Beef, cheese, tots. Awesomeness.

Here's what you'll need.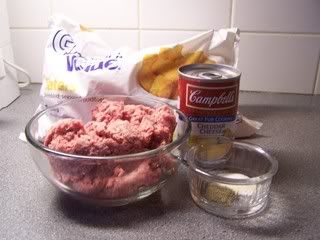 1 lb. hamburger
1 bag tots
1 can cheddar cheese soup
1/4 tsp. black pepper
1/2 tsp. garlic salt

Preheat your oven to the temperature that is on your bag of tots. Mine said 400*, so that's what I put mine at.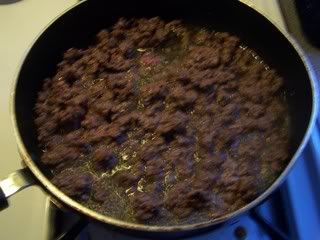 Go ahead and brown the hamburger with the pepper and garlic salt.



Drain the meat, and place it into a 8x8 pan.



Spread the cheddar cheese soup all over the top.



Now. Okay. Here's where my obsessive-compulsive-ness comes out. See how the tots are lined up nicely? Yeah. Have to do it that way.
Kurt yells "Just throw them on there and get it in the oven, woman!! I'm hungry" And I say, "No! Things must be orderly! And in lines! And in alphabetical order!"
And since I cook, I win. :) Ahh, the order. I love order.

Anyway, moving on.



Bake as directed on the package of tots. The directions on my bag said 400* for 22-28 minutes. I throw the extra tots on a baking sheet and cook along with the casserole.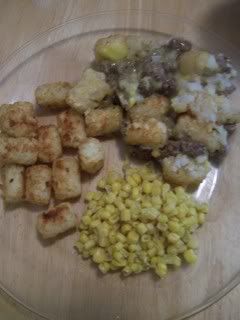 There. TTC, purist style. And delicious.