Day 52.

My friend, Andrea, asked me to blog some diet-friendly recipes. So here's my recipe for chicken noodle soup. I use white meat chicken and fresh veggies, so it's pretty friendly for the waistline. This can also be put together, start to finish, in about 15 minutes. From now on, I'll tag any diet-friendly recipes as Andrea. :) Hope you like this one!

Here's what you'll need.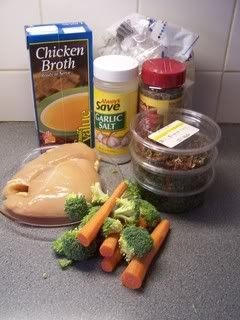 2 boneless, skinless chicken breasts
2 large containers of chicken stock (I thought I only needed one, but I ended up needing two)
About 1/2 package egg noodles
Any fresh veggies you need to use up (I had carrots and broccoli)
I also had dried celery flakes and dried bell peppers
Garlic salt
Pepper
Parsley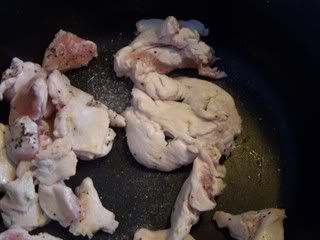 Slice up the chicken and cook it thoroughly. Season with pepper and garlic salt.



Throw in your fresh veggies, and cook for just a minute.



Add the stock to the pot.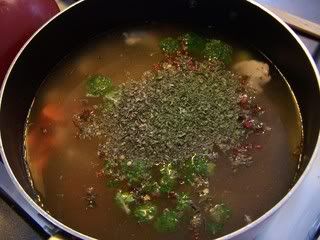 Add in the parsley, celery flakes and dried peppers. Season again with a little pepper and garlic salt. Bring to a boil.



Add the noodles and cook as package directs.



Once the noodles are cooked through, ladle into bowls.