Day 32.

This recipe comes from my Canadian friend, Marcie. She says this is her favorite pizza, so I figured it was worth a shot! I mean, it's a pizza. With potatoes. And bacon. And cheese! What's not to love??? Pierogis, if you don't know, are a Russian/Polish/Ukrainain thing. They're a dough filled with lots of different things, commonly, mashed potatoes, onions and cheese. The dough is then boiled, baked or fried. Yum. Frozen pierogis are available in most grocery stores as well.

Here's what you'll need.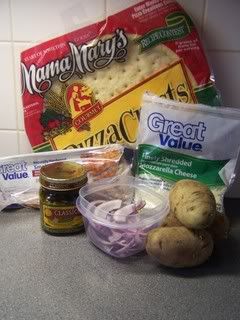 Pizza crust-you can make your own or be lazy and buy one. Like me
2-3 potatoes
4-5 pieces of bacon
3-4 tablespoons prepared pesto
Mozzarella cheese
Sliced onions

Preheat your oven to 350*



Break out your mandoline slicer, if you have one.



Slice up the potatoes.



Dump them into a mixing bowl.



You'll need to spice these puppies up. Use some olive oil, garlic powder, seasoned salt, red pepper flakes and just a bit of cayenne pepper.



Put the potatoes on a baking sheet and bake in the preheated oven for about 30 minutes, flipping halfway through.



Meanwhile, dice up the bacon and cook in in a frying pan.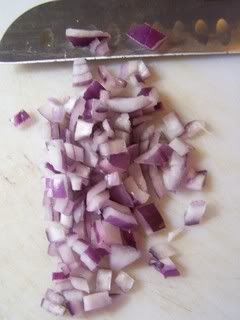 Chop the onion.



Once the bacon is crispy, take it out of the pan and set aside.



Cook the onions in the bacon grease until they're soft. Take them out and set aside as well.



Break out the pizza crust and brush on a very small amount of olive oil.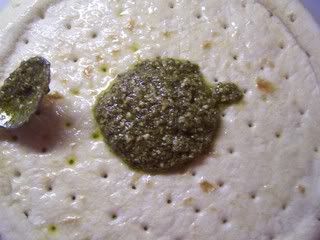 Spoon the pesto onto the crust.



Spread it around.



Pull the potatoes out of the oven and pile them onto the crust.



Add the onions and cheese. I ran out of shredded cheese so I had to use the rest of the mozzarella pearls from last week. That's okay. I still think they're pretty!
Sprinkle the bacon on the top too. I guess I didn't get a picture of that! I thought I did. Whoops!



Bake according to your package directions. Mine said to bake at 425* for 7-8 minutes. So that's what I did.



Marcie was right. This IS awesome!!