Day 53.

OMG! These cookies are AMAZING. Seriously.
Make them. You'll thank me. I promise. :)

Here's what you need.


1 1/4 cups brown sugar
1/2 cup butter
1 egg
1/2 cup chopped cashews
1/4 tsp. baking soda
1/8 tsp. salt
1 1/4 cup flour

Preheat oven to 350.



Combine the butter, sugar and egg in a mixing bowl. Mix until well combined.



Add the baking soda, salt and flour.



Mix well.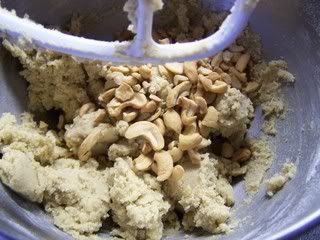 Add the cashews.



Mix until just incorporated.

Use a cookie scoop to portion out dough. Bake for about 12 minutes. You'll want to pull them out when they're just barely done. The dough will spread as it cooks, but it makes the edges crispy and the middle nice and soft.

Like this.



But seriously. Make these. Your family will thank you.
As mine did.
By eating all the cookies.
:)