Day 50.

This one is super easy. I mean, insanely easy. Since it's Friday and Lent, we're meat free on Fridays. Usually we would just do cheese pizza or spaghetti or something boring, but decided we would try something new. So here it is!

Here's what you'll need.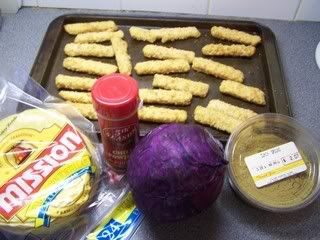 Some breaded, frozen fish sticks
tortilla shells of your choice
Purple cabbage
Cumin
Chili Powder

Season the fish with the cumin and chili powder. Bake as package directs.



Shred the cabbage.

Once the fish sticks are cooked, make up your tacos!



We had this with the pico de gallo pilaf recipe from a couple of weeks ago and it was pretty tasty!

So there it is. My almost embarrassingly easy fish tacos. :)