Day 57.

I made a Thai feast! Our friends, Wain and Kathy, and their two boys came over for supper. I made three different dishes, and I'll be blogging them over the next 3 days.

Here's what our plates looked like minus egg rolls.




Here's what you'll need for egg rolls.


1 bag broccoli slaw
1 package egg roll wrappers
1 steam bag
Basil
Lemon pepper seasoning

**Preheat your oven to 375**



Put the slaw in a steam bag. Season with basil and lemon pepper. Steam according to package directions.



Lay out some wrappers.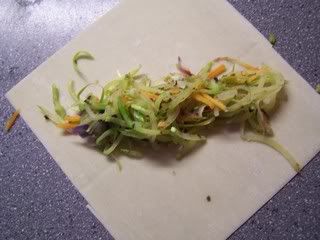 Spoon some of the steamed slaw into the center of a wrapper.



Fold up the bottom corner.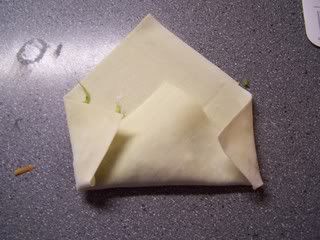 Fold in the sides.



And roll it up!



Spray with some cooking spray. Bake for 15 minutes, turn and bake 15 more.