Day 31.

Wow. I've made it a whole month! Only 11 more to go!

I've always been a bit intrigued by polenta. I've seen the premade roll-type in the grocery, and chefs on FoodNetwork use instant polenta, which I've never been able to find. I've always thought polenta would be a nice alternative to mashed potatoes, and we found that is was!

Here's what you'll need.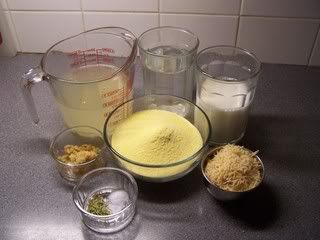 2 3/4 cups chicken stock
2 cups water
1 1/2 cups milk
3 minced garlic cloves
1 1/2 tsp. chopped fresh rosemary (I used 1 tsp. dried)
1 tsp. salt
1 1/2 cups cornmeal
1/2 cup Parmesan cheese
Salt and pepper to taste

Preheat your oven to 375*



In a medium saucepan, bring chicken stock, water, milk, garlic, rosemary and salt to a boil.



Gradually mix in the cornmeal, set heat to medium-low, and simmer until thick and creamy, about 15 minutes. Be sure to stir it frequently to prevent it from lumping up.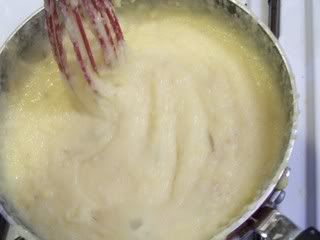 Here it's getting nice and thick. I think mine was ready to go in about 11 minutes, but yours may take the full 15.



Remove from heat and stir in the Parmesan cheese.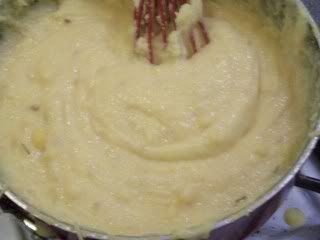 Stir it until well combined.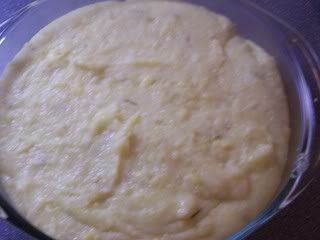 Spoon the polenta into a greased 2qt. oven-safe dish.



Go ahead and sprinkle some pepper over the top...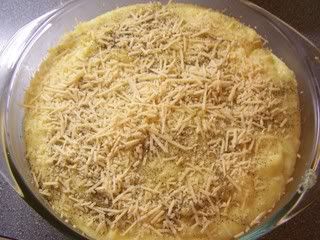 and some more Parmesan if you're feeling kinda crazy. Then put it in the preheated oven for about 30 minutes, or until it's bubbly and browned.



Like this.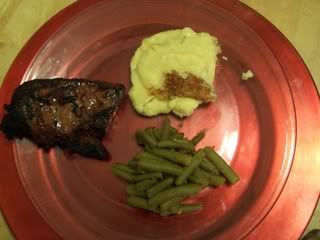 The finished product, with a nice steak and some green beans. Yummo!

The polenta had a really nice flavor, but I may leave out the rosemary next time and bump up the garlic. Rosemary is something I really have to be in to mood for, and that mood doesn't happen very often. But this was nice.