Day 25.

I've been craving some fresh, summery food. I found this recipe and it sounded amazing. It tastes pretty amazing too!

Here's what you'll need.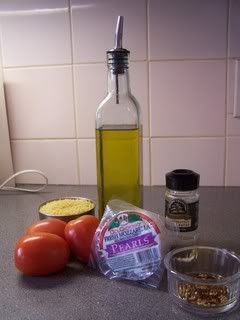 1 cup uncooked orzo pasta
3-4 tomatoes
Basil
1 1/2 cup Mozzarella (I found these mozzarella pearls that I thought were so cool, cubed mozzarella would work too)
1 tsp. red pepper**
Couple splashes of olive oil



Heat some water to boiling. Cook the orzo as directed, usually 10 minutes.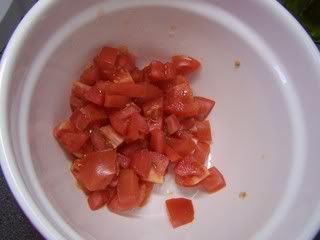 Dice up your tomatoes.



Add the crushed red pepper and about a teaspoon of dried basil. Fresh basil would be better, but you have to make do.



This is what the mozzarella pearls look like. Yummy.



Break the pearls into smaller pieces and add to the tomatoes.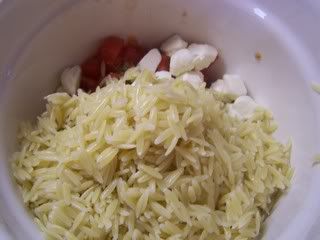 After the orzo is cooked, drain it and rinse with cool water. Add to the tomatoes and mozzarella.



Sprinkle with some more basil and add a couple of splashes of olive oil if it seems dry.

**If you aren't big on spicy stuff, I'd cut this in half. It made the salad pretty warm. **