Day 11.

I found this recipe on Rachael Ray's website. It can be made vegetarian-friendly very easily by using vegetable broth in place of chicken broth. We usually add some chopped, cooked chicken, but that's totally optional.

Here's what ya need.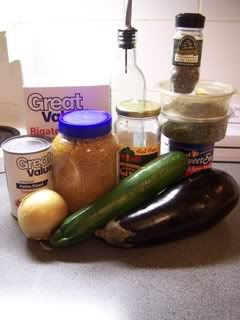 1 lb. rigatoni
1/4 cup EVOO
4 garlic cloves, crushed
1 pound zucchini, diced
1 pound eggplant, diced
1 large yellow onion, diced
3 whole roasted red peppers
1/2 cup chicken stock (or veggie broth)
15 oz. can diced tomatoes
Basil, Parsley
Parmesan or Mozzarella cheese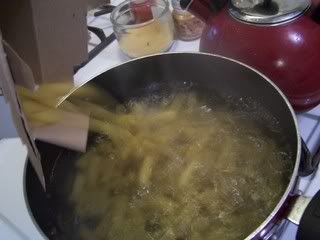 Heat a pot of salted water to a rolling boil, and cook pasta according to package directions.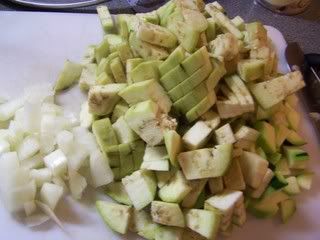 Meanwhile, dice up your veggies.



Dig your red peppers out of the jar. I had never used roasted red peppers before making this dish. They're amazing! Super flavorful, and they add a really nice color as well.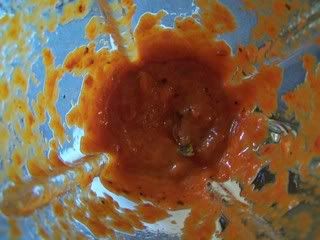 Now, throw those puppies in your blender and blend until almost smooth. Leave it a little chunky, for some texture.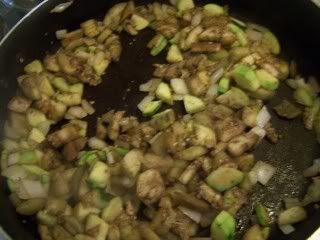 Saute' up your veggies in olive oil until tender, about 10 minutes.



When the veggies are tender, deglaze the pan with your chicken/veggie broth. It'll steam up quite a bit!



Add the roasted red pepper puree to the pan.



Drain your pasta, and set aside.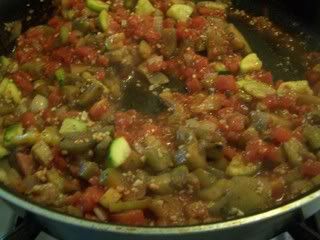 Go ahead and add the canned tomatoes, juice and all. Simmer this for just about 5 minutes, or until some of the liquid has evaporated.



If you are adding chicken to the dish, put it in with the pasta. Dump the tomato/veggie mix in too. Stir it all together.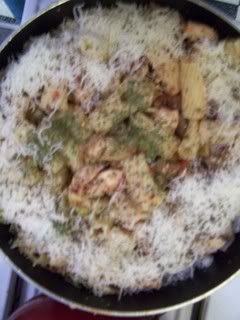 Sprinkle the top with basil, parsley, and cheese.



Yum.