Day 5:

Lasagna. Warm, gooey lasagna.
This is the recipe my mom has always used. I'm not sure where she got it, but it's one of the first things I cooked for Kurt. He was hooked. :)

This is what you'll need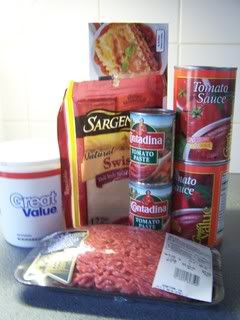 1 box lasagna noodles
1 lb. ground beef (You could use ground turkey or chicken too)
2 cans tomato paste
2 (15 oz) cans tomato sauce
Big carton of cottage cheese
Swiss cheese



Here's the spices I use.


Garlic, basil and oregano. I don't know how much of each. Just some.



Heat up a big pot of water.
Boil the noodles as package directs.



While this is going, throw the ground beef in a saucepan. I brown it in a saucepan just to save washing another dish.



Put about half the spices in with the beef.



Cook it till nice and brown. Then drain.



Open up your tomato paste. Dump it in the saucepan.



Add in the tomato sauce.



Go ahead and put in the rest of your seasoning.



Add the beef back in. Cook this until the tomato paste gets all smooth-like.

Drain your noodles when they're done.



Now. I put this into two 8x8 pans, simply because we won't eat a 9x13 pan. If you have a bigger family, by all means, do the 9x13. With two 8x8's, we eat one, and I freeze the other.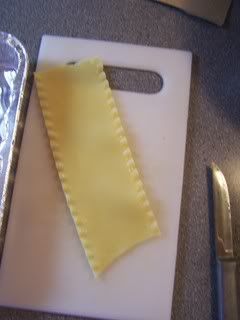 If you do the smaller pans, you'll have to cut your noodles down to size.



Start off with a layer of noodles.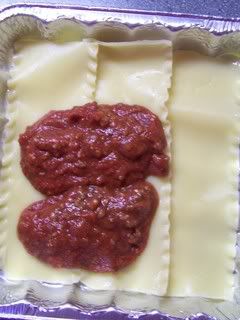 Then add some sauce.



Then some cottage cheese.



Then schmear it all around.



You'll repeat this two more times, ending with the sauce and cheese.



Top it with some swiss. I don't know why I use swiss. Probably because my mom told me to. And we all know I do EVERYTHING my mother tells me. Right, mom?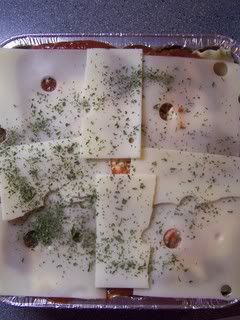 I like to sprinkle it with a bit of dried parsley. My mom didn't tell me to do that, it just looks fancy.

Pop it in a 350 degree oven. If it's an 8x8, you'll cook it about 30 minutes. If it's a 9x13, go closer to an hour.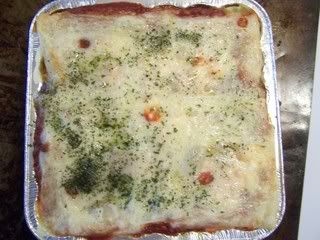 Pull it out when the cheese is nice and bubbly gooey.



Let it rest a few minutes, then dig in!