Day 26.

Eggplants were on sale this week at Walmart, so I bought one. Then I thought, "Hm. What the heck am I gonna do with this???" Then I found this recipe. :)

Here's what you'll need.


1 large or 2 small eggplant
1/4 cup olive oil
Salt & Pepper
1 onion
2 large garlic cloves
1 14.5 oz can Fire Roasted Tomatoes
1 loaf French bread
Basil
1/2 cup Parmesan cheese
1 cup Mozzarella cheese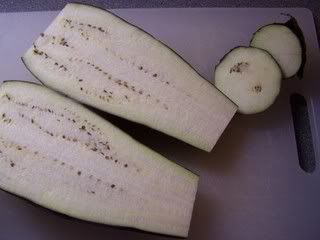 Preheat oven to 450. Split the eggplant in half.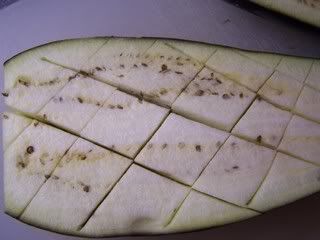 Using a small, sharp knife, score crosshatches into the flesh of the eggplant being careful not to cut through the skin.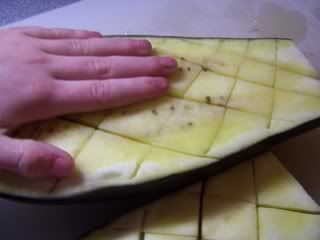 Rub in 3 tablespoons of olive oil and salt and pepper to taste. Place cut side down on a cookie sheet and roast for 20 minutes.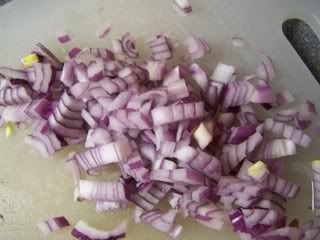 Finely chop your onion. I only used a half of an onion, because The Husband isn't real big on them.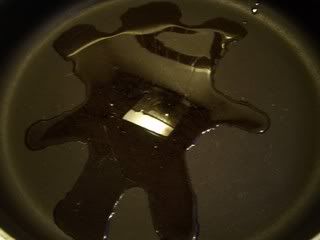 Heat up the rest of the olive oil in a big skillet.



Slice your bread in half lengthwise.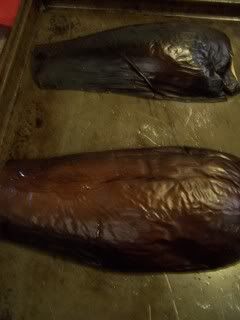 Pull out your eggplant after 20 minutes.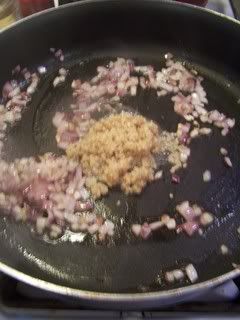 Cook your onions until translucent, then add your garlic.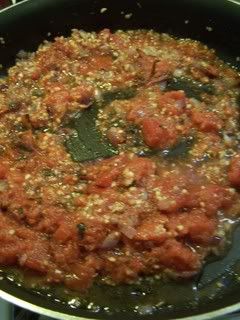 Stir in the tomatoes and basil.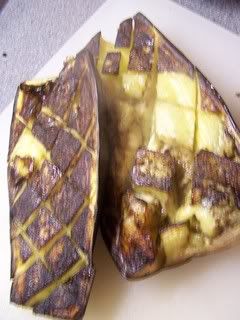 Your eggplant should be nice and charred.



Scoop out the flesh.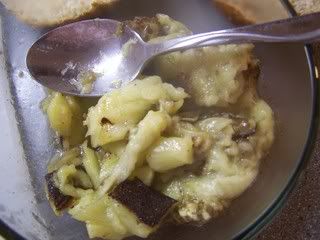 Put it in a bowl and mash it up.



Your tomato mixture should start to thicken up a bit.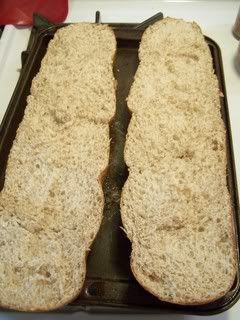 Lay out your bread. I toasted mine under the broiler for a bit so it wouldn't be soggy.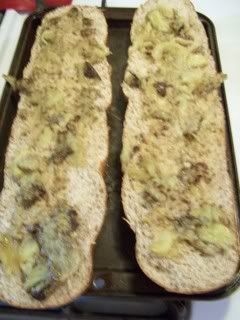 Spread the eggplant mash onto each piece.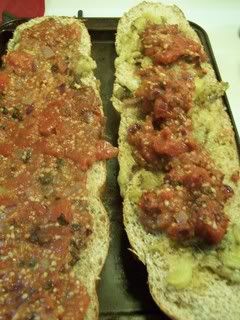 Top with the tomato mixture.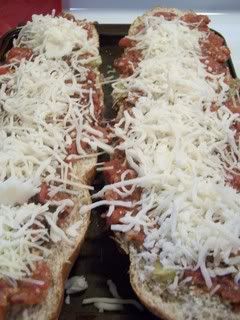 Throw on the parmesan and mozzarella cheese. Pop it under the broiler until the cheese melts, about 5 minutes.



Yum! This made a great meal with the pasta salad from yesterday.