Day 19.

We were in the mood for some appetizer/snacky food. I found this recipe in a Pillsbury online newsletter, so I thought I'd give it a try. It was really good!

Here's what you'll need.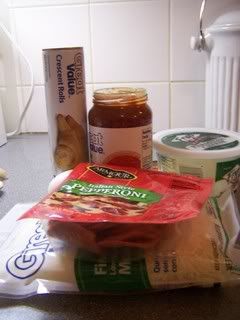 2 cans crescent rolls (pretend there are two there, okay? I jumped the gun on cooking and didn't get my picture shot until after I had started!)
Pizza sauce
Pepperoni
Mozzarella cheese
Parmesan cheese



Unroll one can of cresecents and pinch the seams together. Pat it into a greased cookie sheet.



Spread about 1/4 cup of pizza sauce over the dough.



Top with pepperoni.



And cheese.

Okay. Here's where it can get tricky.



Pull out some parchment paper about the size of your cookie sheet.



You need to unroll the second can of crescents onto your parchment paper. Pinch the seams again. Then break out your rolling pin.



Roll the dough so it is the same size as your cookie sheet. Then use the parchment paper to flip the dough on top of the other one.



Pinch the edges to seal. Just like making a pie.



Now we're going to make an egg wash. Beat an egg with just a splash of water or milk. I also added some garlic salt and parsley.



Spread the egg wash on your dough, using a pastry brush.



Then top it with some shredded parmesan. I don't know how much. Just eyeball it.

Bake at 375* for 12-15 minutes or until golden brown.

Like this.