Day 9.

This recipe comes from Ree, The Pioneer Woman. You can check out her website here: http://thepioneerwoman.com/
I love, love, love her site. And her cookbook. I even went to the cookbook signing.

Here's what you'll need for these.


Red potatoes
Some olive oil
Spices

Bring a big pot of water to a boil. Boil the potatoes until fork tender.



After your potatoes are done, pour some olive oil onto a baking sheet.



Use a pastry brush to really spread the oil around.



Take the potatoes out of the water, and put them on the baking sheet.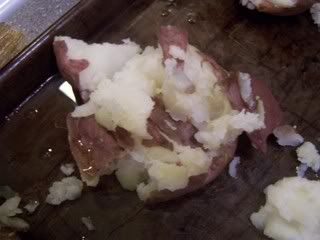 Using your potato masher, crash 'em down just until the skins pop open.



Douse them in olive oil again, then sprinkle on some spices. We usually do garlic powder and sometimes parsley. I've also made them with rosemary.



Bake them in a preheated 450* degree oven for 20-25 minutes, or until the skin gets nice and crispy. Sometimes we like to top these with shredded cheese and pop them back under the broiler until the cheese is melty. MMMMmmm. Gotta love that PW. :)