Day 28.

Brrr! It turned really cold today, so here's a stick to your ribs comfort food.

Here's what you'll need for the chicken part.


3 slices of bacon
3-4 potatoes
1 onion
3 cups chicken stock
1 can corn (drained)
1 lb. boneless, skinless chicken breasts
Pepper
3 cups of milk (Okay, I forgot that. Whoops)



Dice up the bacon.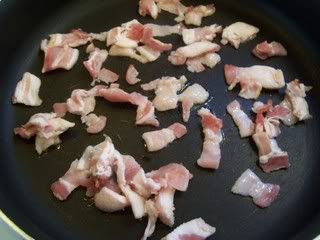 Cook it in a big skillet until nicely browned.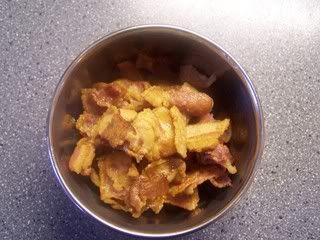 Remove the bacon from the pan and set aside. Leave the bacon grease in the pan.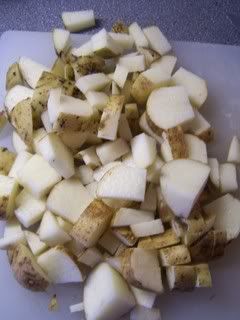 Dice the potatoes and onions.



Start cooking the chicken.



Add the potatoes and onions. Cook for 15 minutes.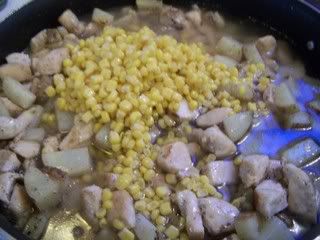 After 15 minutes, pour in the chicken stock and add the corn. Cook another 15 minutes.

Now let's make the dumplings!
Here's what you need.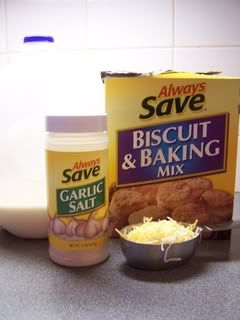 1 1/2 cups biscuit mix
1 cup milk
1/2 cup shredded cheese
1 tablespoon garlic salt
2 tsp. dried parsley
Put all ingredients into a bowl, and mix well.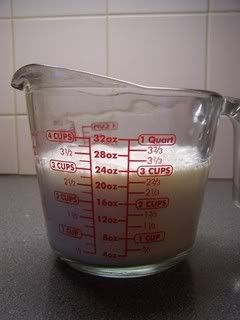 Now get out your 3 cups of milk.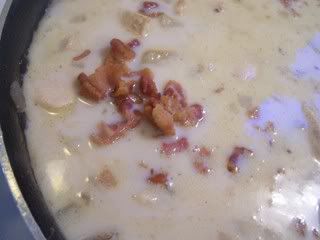 Pour it into your skillet, and when it comes to a boil, stir in the bacon.



Drop the biscuit dough into the skillet by tablespoons full.

Cook uncovered for 10 minutes. Try not to stir, as it will break up the dumplings.
Cover, and cook 10 minutes more.



The dumplings will puff up nicely.



Mmmm! This really hit the spot tonight!