Day 7:

This morning, I woke up to this.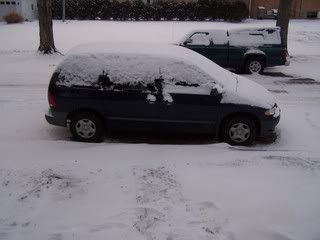 So I thought it was a great day for soup. I had seen this recipe in my new EveryDay with Rachael Ray magazine, so I thought I'd give it a try.

Here's what you'll need.



32 ounces of chicken stock
1 pound boneless, skinless chicken breasts/tenders
2 tablespoons butter
3/4 cup orzo pasta
2 tablespoons EVOO
1 small zucchini, chopped
1 carrot, chopped
1/2 small red bell pepper, chopped
2 shallots, chopped
1 cup frozen peas
Parsley
Lemon peel

I didn't have chicken stock, so I used water and chicken bouillon. I also didn't have a fresh bell pepper, so I used a mix of dried green and red bell peppers.



In a medium pot, bring the chicken stock and chicken to a simmer. Lower the heat and poach the chicken for 12 minutes.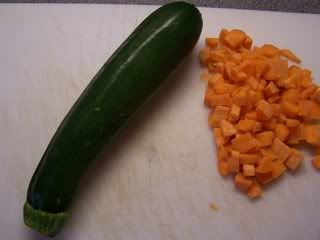 Chop your carrot and zucchini. Your red pepper too, if you have one. Unlike me. I put the dried peppers in with my chicken.



Shallots. They're like the love child of an onion and garlic. Chop up two of em.



Ah. Thank you.



Melt up the butter in a soup pot.



When the butter is all melted, throw in the orzo. Cook it until is a nice, toasty brown. It'll take about 3-5 minutes.



When it's browned, pull it off the heat, put in a bowl, and set it aside.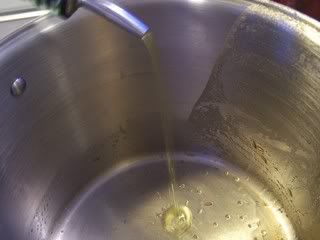 Now, in the same pot, add your EVOO.



Chuck in all your chopped veggies. Cook until soft, 7-8 minutes.



When the veggies are about done, put in the garlic. I don't like to put garlic in too soon because I'm always afraid I'll burn it.



Pull the chicken out of the poaching liquid. See the dried peppers on mine? Yum.
Pour the liquid into the pot of veggies. Add 2-4 cups of water too.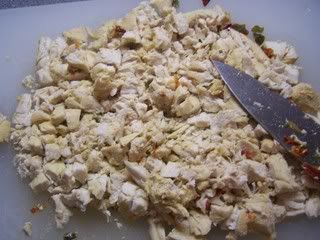 Chop it up nice and fine.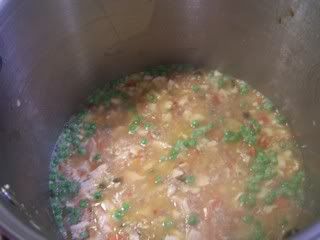 Add the orzo back in. Cook for 5 minutes. Add the peas. Cook for 5 more minutes.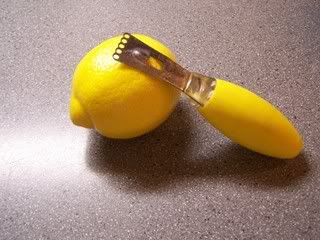 Use a zester, if you have one, to zest some strips of lemon peel. It will make the flavor of the soup come alive. It really adds something.



Put the lemon zest in the pot, and add some parsley.



Yum. There it is. And it really hit the spot.