Day 40.

We are always at a loss with what to have as a side dish when we're having tacos. I found this recipe, and I think it will be our go-to!

Here's what you'll need.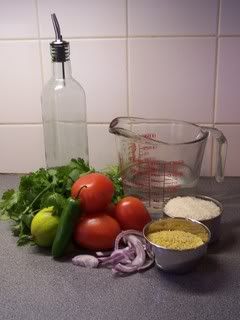 1 tablespoon olive oil
1/2 cup orzo
1 cup white rice
2 cups water, chicken stock or veggie stock
4 plum tomatoes
1/2 red onion, sliced
1 jalapeno
1 lime
1 handful cilantro



Heat the olive oil in a big skillet. Add the orzo.



Toast until deep, golden brown.



Add the rice and liquid. Bring to a boil, then cover and reduce to a simmer. Simmer 17-18 minutes.



Meanwhile, dice the tomatoes.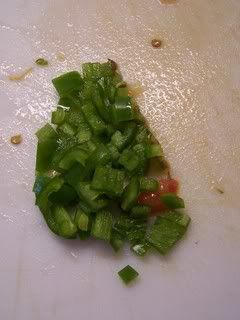 Seed and finely dice the jalapeno.



Combine the onion, tomatoes, jalapenos and zest of the lime in a small bowl.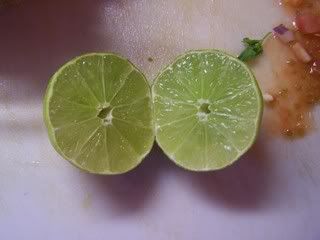 Cut the lime in half...



and squeeze the lime juice into the bowl.



Now for the cilantro. I use my kitchen shears to snip it to add to the bowl.
If you don't like cilantro, simply leave it out or sub with parsley. Did you know a certain percentage of people think cilantro tastes like soap or metal shavings? It's thought to be some sort of genetic trait. Weird. We like it, so we put it in.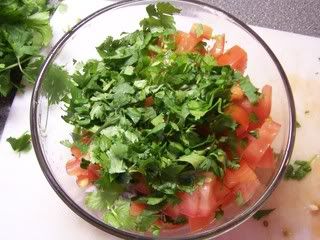 Like this.



After your rice and orzo have done their thing and absorbed all the liquid, it should look kinda like this.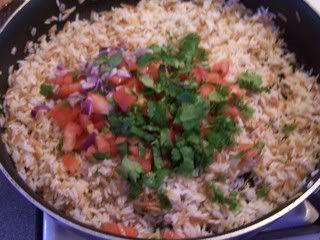 Fluff the rice with a fork, and stir in the salsa mixture.



Fab-o in a taco salad.

This one will be going into the rotation for side dishes. I can't wait to make it again in the summer with garden fresh veggies. I think it would also be good with chicken or even with some grilled burgers. Yum.