Day 55.

I had so much fun photographing this meal, because I did it with my friend, Sherry. Sherry is a fellow blogger whose blog is much more popular than mine! She came and watched me cook, and will feature me on her blog on Friday. I'm so excited! Here is the link to her blog if you would like to check it out.

http://thecharmofhome.blogspot.com/

She does a different theme for each day of the week. My favorite day is Thursday, when she blogs a tablescape. She is so talented!

Also, for you local readers, Sherry and I will be offering an evening workshop on creating an Easter meal and tablescape. Watch the blog for more details. I'm so thrilled to be working with her on this!!

Ahem. Now. Onto the recipe. ;)

Here's what you'll need.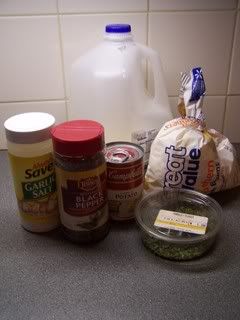 2 cans of Cream of Potato soup
6 cups milk
1/2 bag Southern Style hash browns
1/2 tsp. black pepper
1 tsp. garlic salt
1 tsp. dried parsley
Shredded cheese to pass at the table



Open up the cans of soup.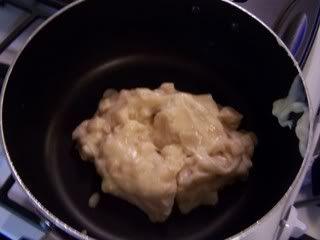 Empty the cans into a soup pot.



Measure out 6 cups of milk.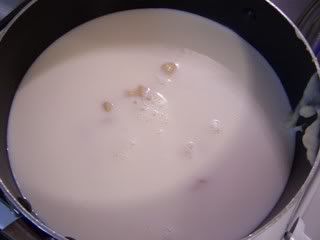 Add that to the pot.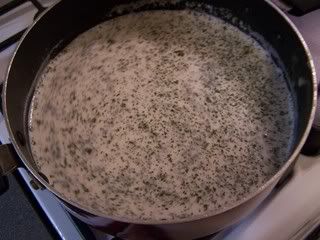 Stir in the seasonings, and bring to a boil.



Once the soup is boiling, add in the hash browns. Cook for 10 minutes, or until hash browns are tender.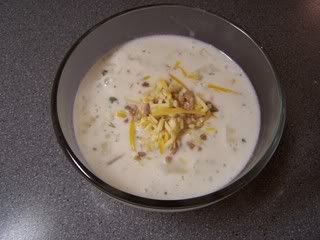 Top with cheese if desired.

If you're a single person, or a small family, you can cut this recipe in half. Just use one can of soup, 3 cups milk, and 1/4 bag of hash browns. We're a fairly small family of 3 adults and one 4 year old, but I make the full batch because it's so good. We'll reheat the leftovers for lunch the next day as well.