Day 43.

Millie and I decided to make these for an early Valentine's Day treat. Normally I despise Valentine's Day, but it's much harder to dislike it when you've got a small person that is terribly excited about it.

Here's what you'll need for these.


2 1/2 cups flour
1 teaspoon baking soda
1 teaspoon salt
2 sticks butter, softened
3/4 cup granulated sugar
3/4 cup packed brown sugar
1 Tablespoon vanilla extract (Yes. Tablespoon)
2 eggs
1 12 oz. package chocolate chips

Preheat the oven to 375*



Start by combining the flour, baking soda and salt.



Put the softened butter in a mixing bowl.



Add the sugars and vanilla and mix well.



Add the eggs one at a time, mixing well after each.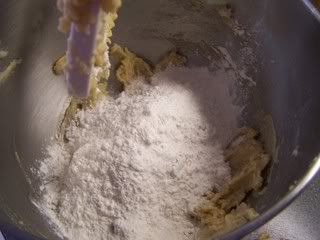 Dump the flour mixture into the mixing bowl and mix well.



Like this.



Add the chips



Mix well, then pass the beater off to your helper so she can clean it up. :)



Spread the batter into a greased jelly roll pan.



Bake for 20 minutes.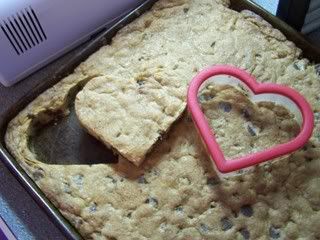 Once cool, use heart shaped cookie cutters to cut the cookie dough.



The scraps are great dunked in milk or crumbled over ice cream.



Ya think she's excited???



Arrange on a plate and top with sprinkles.



Now that's a Valentine's gift I can get behind!!!