Day 167.

I went and picked blueberries yesterday with my good friends Jamie and Mandy. After we picked, we came back to my house and I showed them how to make these amazing muffins. Here's the recipe, girls!

Here's what you'll need.


1 stuck unsalted butter, at room temperatur
1 cup sugar plus 2 tablespoons
2 eggs
1 teaspoon vanilla
2 teaspoons baking powder
1/4 teaspoon salt
2 1/2 cups blueberries
2 cups flour
1/2 cup milk
1/4 teaspoon cinnamon

Preheat oven to 375*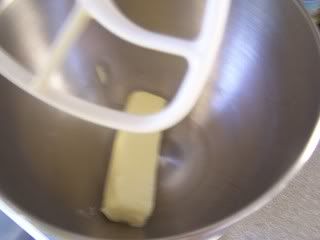 Begin by placing the butter into a mixing bowl.



Cream until smooth.



Add in 1 cup of sugar and mix well.



Add the eggs and mix.



Add the vanilla, baking powder and salt. Mix.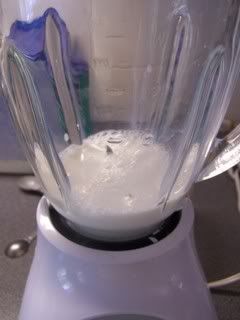 In the blender, place 1/2 cup milk.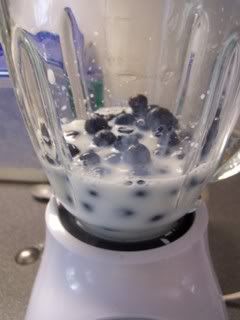 Add 3/4 cup blueberries.



Puree' until smooth.



Into the mixing bowl, add 1/2 the flour.



And 1/2 the blueberry puree'.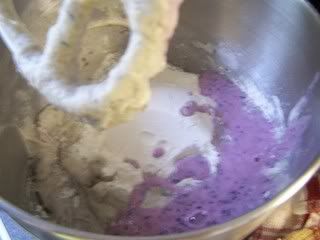 Mix well, then repeat with the remaining flour and puree'.



Mix well.



Add the remaining blueberries.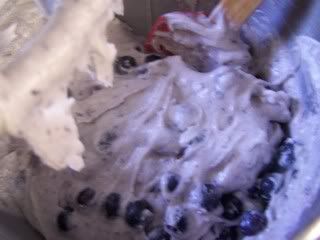 Fold these in by hand.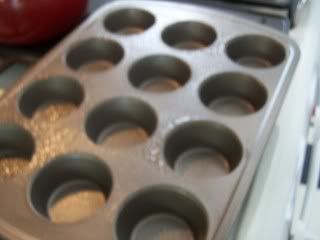 Prepare 2 muffin tins by spraying with non stick spray, or adding liners.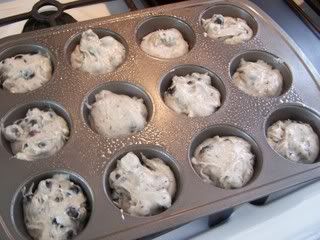 Add batter to pans.



In a small bowl, combine the remaining 2 tablespoons sugar with the 1/4 teaspoon cinnamon.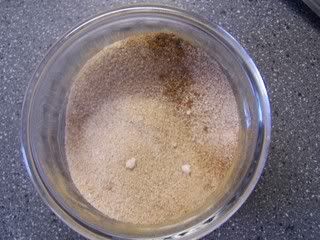 Mix well.



Sprinkle cinnamon-sugar over the muffins.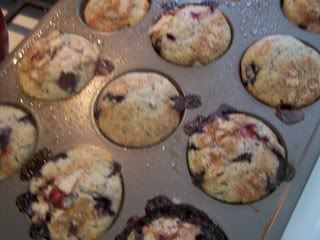 Bake at 375* for 25-30 minutes, or until risen and golden.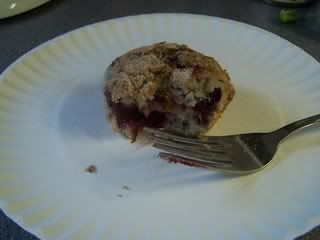 Serve warm.

*********************************************
Couple of tips.

1. If you want to freeze the batter, use muffin tin liners and freeze batter in muffin pans. Once frozen, pop them out of the tins and store in ziptop bags. Simply add 10 minutes to bake time to bake them from frozen.

2. In doing this, if you wish to only bake a couple of muffins, fill the empty holes of your muffin tin with water. This will help to prevent your pan from burning or warping.