Day 165.

I've always been a bit interested in quinoa, but was never sure of a good way to cook it. This recipe sounded good, and it was. Locals, I get my quinoa at Claybank Foods.

If you don't know what quinoa is, it's a grain that is basically a complete protein, making it very healthy.

Vegetarians, leave out the chicken. :)

Here's what you'll need.


3/4 cup quinoa, rinsed
1/2 teaspoon salt, divided
1 tablespoon vegetable oil
2 carrots
1 medium red bell pepper
2 cups peas
1/4 teaspoon black pepper
1 egg
2 green onions
4 grilled chicken breasts
1 tablespoon soy sauce
Chopped garlic
Cilantro



Place the quinoa in a saucepan over medium heat. Let it lightly toast.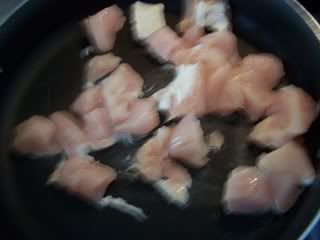 Dice the chicken and cook in a skillet until done.



Once the quinoa is toasted, add in 1 1/2 cups water and 1/4 teaspoon salt. Bring to a boil, then cover and reduce to a simmer. Simmer 15 minutes, or until liquid is absorbed.



While chicken and quinoa are cooking, chop all the vegetables.



After chicken is cooked, remove it from the skillet. Place the oil in the skillet and add in the carrots.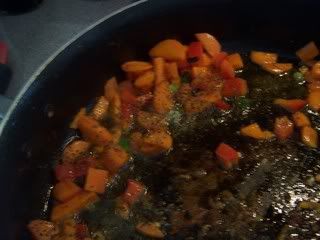 Stir in the peppers and season with pepper.



Once the peppers begin to soften, add the chicken back to the skillet along with the peas.



Sprinkle on some cilantro. I only had dried, so that's what I used.



Once the quinoa is done, remove the lid.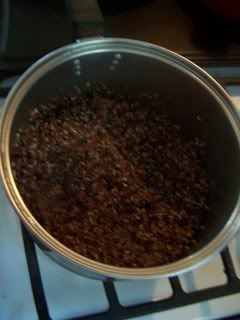 Fluff it with a fork.



In a small bowl, beat the egg.



Remove the chicken and vegetables from the skillet. Add the quinoa in.



Add in the egg, stirring constantly until cooked, about 2 minutes.



Add the chicken/vegetable mixture back to the skillet. Also add in about 2 tablespoons chopped garlic, and the chopped green onions.



Stir it all together.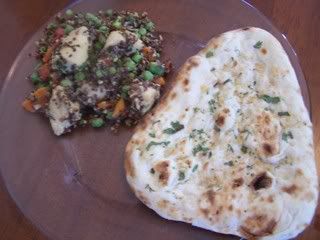 We had ours with some lovely naan bread that we had bought at Trader Joe's. Mmmm.