Day 166.

We used this rub on some chicken, but it would be really good on some shrimp as well. It was pretty spicy, so you may want to serve this over a salad.

Here's what you'll need.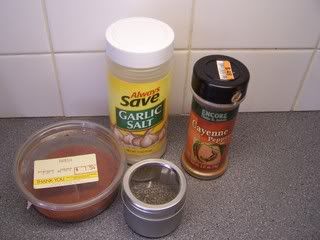 2 tablespoons paprika
2 tablespoons garlic salt
2 teaspoons cayenne pepper
2 teaspoons black pepper



Add all the ingredients to a bowl.



Stir well.



Coat one side of the chicken.



Rub it in, and coat the other.



I baked this at 350* for 25 minutes.