Day 171.

I usually make Millie's birthday cakes, and this year she said she wanted a mermaid cake. This was the best I could come up with! I'm not a professional by any means, but I like doing it. :)

Here's what you'll need.



A baked and cooled 9x13 cake



2 cans of icing
Food coloring
Graham crackers
and a Barbie doll



Let's start with the water. I added about 10 drops of blue coloring to one can of icing.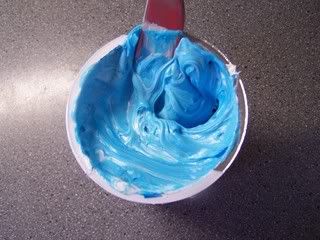 Stir well.



And cover the entire cake. I used the edge of my knife to create "waves" in the icing.



Place some graham crackers into a zip top bag.



And use a heavy bottomed pot to smash them to crumbs.



Use the crumbs to create a beach for Barbie.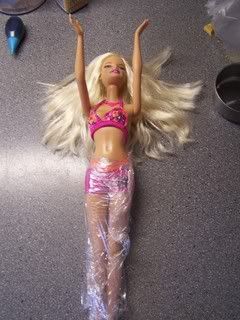 I wrapped Barbie's legs in plastic, just so she'll clean up easier when we're finished.



Plop her down on the beach.



We decided to go for pink for her tail. I used about 6 drops of coloring.



Stir well.



Pipe stars to make Barbie's tail, and border.



Ta-da! Like I said, I'm no professional, but I have fun doing it. Amelia's not too picky, either. :)