Day 101.

This is one of my moms favorite desserts. She wanted me to make it for Easter, so I did. I'm SUCH an AMAZING daughter!!! (Right, mom????)

Here's what you'll need.


2 packages graham crackers
3 cups milk
1 box french vanilla instant pudding
1 box cheesecake instant pudding
1 8oz carton CoolWhip, thawed
1 can chocolate icing



Start by laying out a single layer of graham crackers in the bottom of a 9x13 pan.



Place the puddings into a bowl.



Add the milk, and mix well.



Dump in the CoolWhip and stir again.



Spread half the pudding mixture over the bottom layer of crackers.



Add another layer of crackers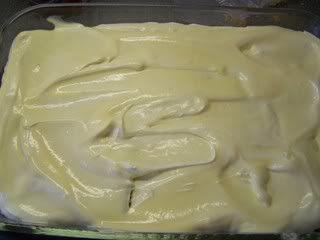 Then the rest of the pudding mixture.



Top with a final layer of crackers.



Spread the prepared frosting over the top.

Refrigerate for a couple of hours, at least. I prefer overnight.