Day 115.

I came across this recipe while reading a blog. It really peaked my interest because it's going to be summer soon. I hate heating up my kitchen in the summer, so I'm always looking for crockpot ways of cooking things. We had these wedges with some grilled burgers, so it didn't heat up the kitchen at all! Yeah! These were really tasty, and we'll be making them again.

Here's what you'll need.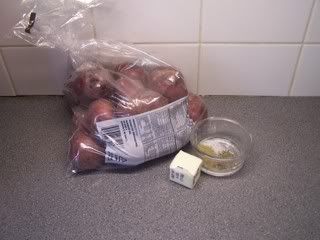 2 lbs. red potatoes
1 1/2 tsp dried oregano
1/2 tsp. salt
black pepper to taste
2 tablespoons butter
1/4 cup grated Parmesan cheese



Scrub your potatoes, then cut them into wedges.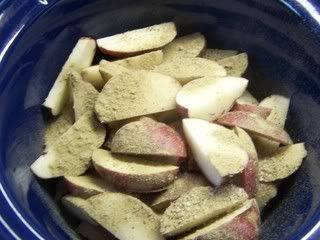 Add them to the crockpot, then top with spices.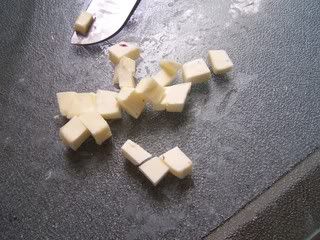 Cut the butter into smallish cubes.



And add it to the crockpot.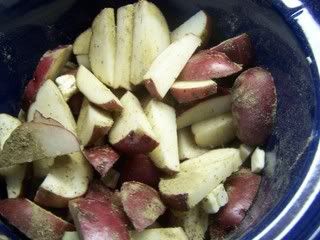 Give everything a good stir.

Cook on HIGH for 4 hours.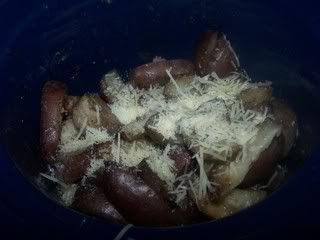 After 4 hours, sprinkle on the cheese. Put the lid back on the crockpot for another 5 minutes or so, to let the cheese melt a bit.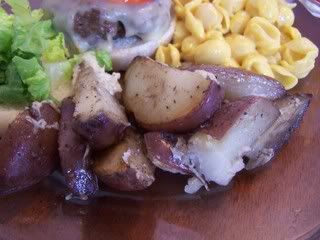 Ahh. The finished product.