Day 118.

I made these cakes for my party I had last week. I had a ton of mint, and thought this would be a good way to use up some of it!

Here's what you'll need.


2 sticks of butter, softened
3 cups pretzels, finely crushed
2 8 oz packages of cream cheese, softened
Grated peel of 3 limes, plus 1/2 cup lime juice
3 tablespoons of finely chopped fresh mint
2 cups heavy cream
1 1/4 cups sugar (not pictured. Whoops)



I loaded pretzels into the food processor



and pulsed it a couple of times to finely crush the pretzels.



Melt the butter in a large skillet



Stir in the pretzels and cook until nicely browned, about 3 minutes.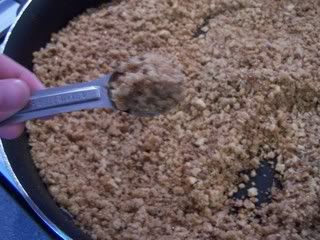 I decided I wanted to make my cakes bite sized, so I used a teaspoon of pretzel mixture. If you want yours cupcake sized, use a tablespoon.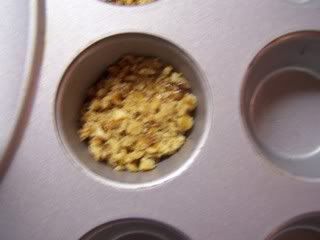 Press the pretzel mixture into the bottom of the tin.
I had enough to fill my 24 cup mini muffin tin, another 12 cup tin and 6 cupcake size tin.

Freeze tins for 30 minutes.



Beat the cream cheese until fluffy, 2-3 minutes.



Finely chop mint.



Add in the sugar, lime peel, lime juice and mint.



Transfer mixture to a bowl.



Beat the whipping cream until stiff peaks form.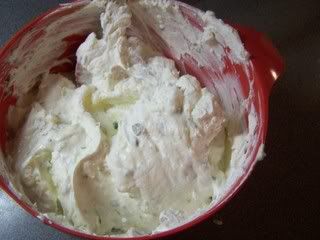 Fold whipping cream into cream cheese mixture.



Once the crusts are frozen, remove them from the freezer.



Fill in the cups. Cover with plastic wrap, and freeze for at least 4 hours. Mine sat in the freezer for two days.

When you're ready to serve, run a wet knife around each cake to loosen it from the pan. Serve frozen.