Day 95.

Hmm. You think we like garlic around here? Garlic is actually very beneficial to your health, especially cardiovascular. It is also helps to prevent many types of cancers and promotes optimal health. And it tastes soooo good. :)

Here's what you'll need for this crust.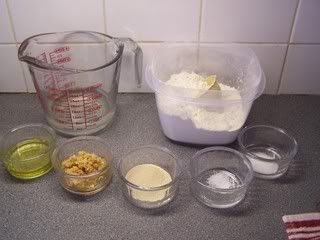 6 fluid ounces lukewarm water
2 tablespoons olive oil
3 garlic cloves, minced
2 cups bread flour
1 teaspoon sugar
1/2 teaspoon salt
2 teaspoons active dry yeast



Place the water, oil and garlic cloves into your bread machine pan.



Add the flour, sugar and salt.



Make a small well, and add the yeast to that.

Set your machine to the Dough cycle.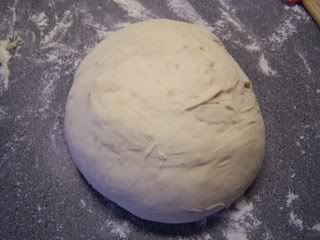 Once the machine signals the end of the cycle. Place the dough onto a floured surface. Knead into a tight ball. Let it rest on the counter for about 15 minutes.



Preheat your oven to 400*. Stretch the dough to fit a pizza pan, and top with sauce and toppings.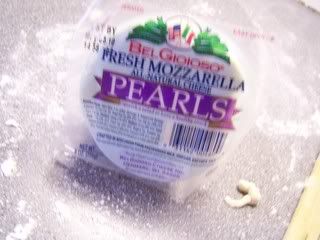 Remember this stuff? Mozzarella pearls. Love 'em.



Add your cheese of choice.

Bake for 10 to 20 minutes in the preheated oven, until the crust is lightly browned on the bottom.