Day 108.

These breadsticks are super good, and since they make quite a few, they're perfect to throw in the freezer for reheating later!

Here's what you'll need.


1 1/8 cups warm water
2 tablespoons olive or canola oil
3 tablespoons grated Parmesan cheese
2 tablespoons sugar
1 tablespoon garlic salt
1 1/2 tsp. salt
1/2 tsp. dried basil
3 cups bread flour
2 teaspoons active dry yeast
Butter for brushing



Place water, oil, cheese, sugar, garlic salt, salt and basil into the pan of a bread machine.



Add the flour and the yeast. Program machine for "Dough" cycle.
Check dough after about 5 minutes of mixing and add a tablespoon of water if needed.



After dough cycle is completed, turn the dough out onto a floured surface.



To form breadsticks: Divide dough in half.



Then into quarters.



Divide each dough quarter into 4 sticks.



Roll each stick into a breadstick.



Place on cookie sheet.



Repeat with all dough.

Cover and let rise until doubled.

Preheat oven to 350*. Bake for 18-20 minutes, or until golden brown.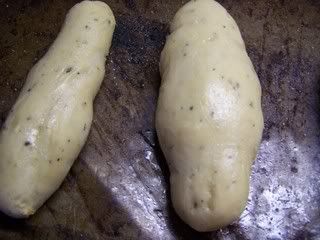 After baking, brush with butter and sprinkle with garlic salt.

*****************************************
If you wish to freeze some.

Flash freeze on cookie sheet and store in a zip top bag.

To bake: Let dough thaw at room temp (about an hour or so)
Bake as directed.