Day 64.

Here it is, my dears. I told you I would have a recipe to use up the rest of the cake mix if you made rolls. And...it's cake batter ice cream. This stuff is freaking amazing.

Let's get started!!!
Here's what you'll need.


1 cup milk
1/2 cup white sugar
2 egg yolks
1 tsp. vanilla
2 cups heavy whipping cream
3/4 cup white cake mix



Go ahead and give your yolks a good beating.



Then, put everything into a saucepan.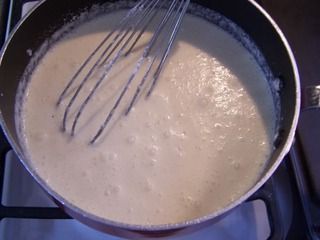 Whisk together.



Cook over medium heat until the mixture is thick enough to coat the back of a spoon.



Pour into a bowl, and refrigerate until well chilled.



Hook up your ice cream maker and go to town!!



Once the mixture is churned, add in a couple tablespoons of sprinkles if you so desire. We obviously did.

Transfer to a freezable container and freeze until solid.



Dish out and enjoy!!

This is seriously some of the best ice cream I've ever had. I love my peanut butter cup too, but this...well...it takes the cake!!