Day 72.

This is a really yummy way to do chicken. We ate it just as it is, and then turned the leftovers into sandwiches. It was delish both ways!

Here's what you'll need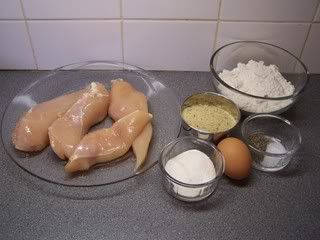 2 Tbsp. garlic salt
1 tsp. pepper
1/2 cup seasoned bread crumbs
1 cup flour
1 egg
1 lb. boneless, skinless chicken
1/2 cup milk (which I forgot to photograph. Oops.)

Preheat oven to 400*



Stir together the flour, breadcrumbs and spices.



Lay out a piece of chicken between layers of waxed paper.



Use a mallet or heavy bottomed pan, and pound each piece of chicken thin.



Combine the egg and milk in a bowl. Dip chicken into the mixture.



Dredge each side into the flour mixture.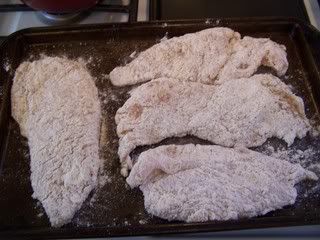 Repeat with each piece and lay them onto a baking sheet. Spray the tops of each piece with PAM or other spray.



Bake for 25 minutes, turning and spraying halfway through.