Day 65.

We really like this chicken. It kind of reminds me of the start of Kurt and I's honeymoon. We were flying out of Indianapolis, and a friend from Indy offered to drive us to the airport so we wouldn't have to pay parking. He had to be at work at like noon, so we left town at 8am. Our flight didn't leave until 2 in the afternoon. But, hey! It was a ride! We didn't eat breakfast that morning, so the first meal we had as a married couple (besides the meal at the reception) was in the airport. We stopped at Dick Clark's Cafe, and I had pecan crusted chicken fingers. Making this always makes me think back to when we were newly married. Awwww...

Here's what you'll need.


1 lb. boneless, skinless chicken
1 cup flour
1 egg
1 cup pecan pieces
3/4 cup bread crumbs
Some grill seasoning
Um..you don't really need olive oil...I don't know why it's in the picture...Sorry!

Preheat oven to 375*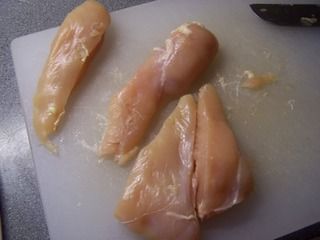 The chicken breasts that I had were HUGE, so I cut two in half to make enough for the four of us. It was plenty.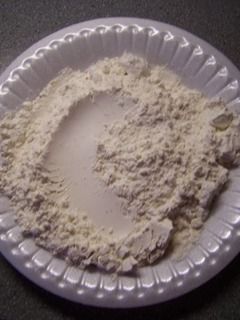 Dump the flour onto a plate. Sprinkle on about 2 teaspoons of grill seasoning. Stir together.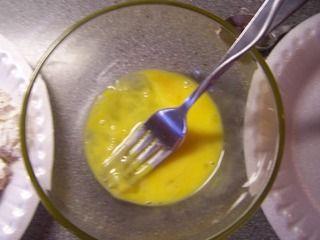 Beat the egg in a bowl.



Stir the breadcrumbs and pecans together on another plate.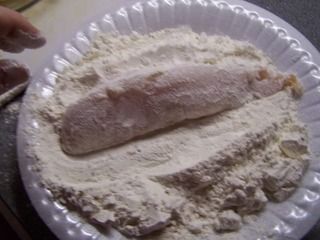 Flour the chicken on both sides.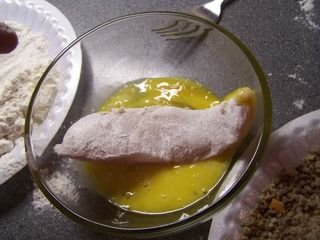 Run both sides through the egg.



Coat both sides with the pecan mixture.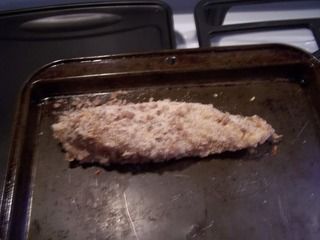 Place on a baking sheet. Repeat with all the chicken.

Bake for 15-20 minutes, until the chicken is cooked through and the crust is golden.