Day 77.

Here's a great recipe for the grill. It's super easy to put together, and tastes super good as well!

Here's what you'll need.


4 boneless, skinless chicken breasts
1 bottle of Italian salad dressing
a couple pinches of parsley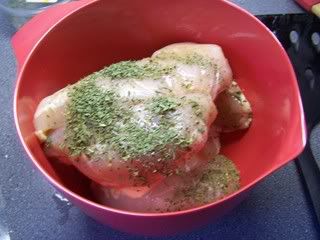 Put the chicken in a bowl, and sprinkle on some parsley.



Dump the bottle of dressing over the top. This can marinade over night if need be. I only had it in a couple of hours, and it turned out great. It's probably a good idea to flip the chicken around a bit if it's not completely covered in dressing.



When you're ready to cook it, fire up the grill and lay out the chicken.



Once it's cooked through, pull it off and let it rest a few minutes.



And there it is. Simple and delicious!