Day 88.

I love the fruit and yogurt parfaits from McDonalds, but hate having to buy something so simple. So here's my recipe for the homemade version.

Here's what you'll need.


Vanilla yogurt
Frozen blueberries
Strawberries
Granola



Get a container ready. I like to use small-ish storage containers with lids. That way I can make several of these babies at a time and store 'em in the fridge.



Plop in a couple of spoonfuls of yogurt.



Layer in strawberries. I like to use prefrozen ones, because they have a little big of juice with them.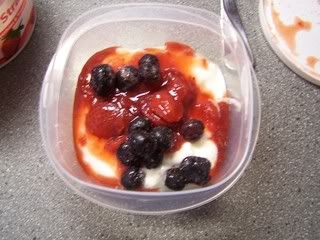 Add in some blueberries.



Repeat the layers. If you're making several of these ahead, stop here. Otherwise the granola gets soggy. Package up the granola separately to keep it crunchy.



If you'll be eating this now, sprinkle on some granola.



Yumm-O!!