Day 78.

Yum. Pizza. On the grill! Amazing! Tonight was another meatless meal because it's Friday. You know what? None of us missed having meat on this super awesome pizza. It was flavorful, with a crunchy crust and velvety smooth cheese.

Here's what you'll need.


1 prebaked pizza crust. I got mine from the deli section at Walmart.
Pizza sauce (I like the squeezy bottle because this doesn't use much)
Fresh mozzarella (pearls would work nicely here as well)
Basil (Fresh would be better, but I have none. So dried it is)
Olive oil

Go ahead and preheat your grill. You want a nice heat to char up the crust.



Open up your mozzarella



And slice it. You seriously want to have everything ready to go when you start cooking this. It goes really fast. You'll want to slice it pretty thin so it doesn't take long to melt.



Pour some olive oil onto the crust.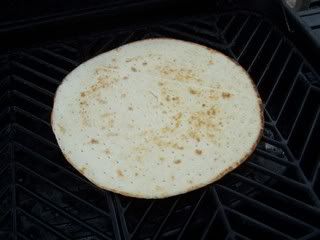 Place the crust, oil side down, on a nice, hot grill.



Coat the other side of the crust with oil.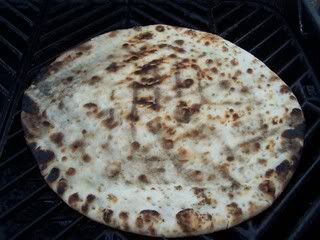 Once it looks nice and charred, flip the crust over.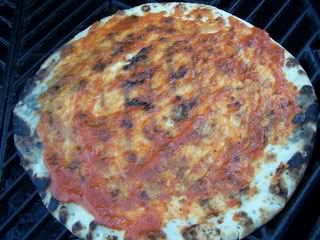 Top with pizza sauce. Really, how much you use is up to you. Some like more sauce than others, just eyeball it.



Shake a nice sprinkling of basil over the sauce.



Lay out the mozzarella slices on the top as well.



Turn the heat to low, and shut the lid until cheese is melty. Sprinkle with more basil if desired.



There. Grilled pizza. I'm so excited that spring is here!!!