Day 68.

This is the dessert that I took to the family from yesterday's post.

I love these cookies because they're just the right amount of sweetness and spice and they're good and chewy. Yum

Here's what you'll need.


3/4C. shortening
1C. brown sugar
1/2C. white sugar
1 egg
1/4C. water
1 tsp. vanilla
1C. flour
1/2 tsp. baking soda
1 tbsp. cinnamon
3C. rolled oats

Preheat oven to 350*



In mixer bowl, combing shortening and sugars.



Add in the egg, water and vanilla. Mix well.



Combine the four, baking soda and cinnamon. Add to the mixer and mix to combine.



Add oats to the mixer. Mix until just incorporated.



Swat your assistant's hand outta the way.

Use a cookie scoop to portion dough. Bake in preheated oven for about 12 minutes.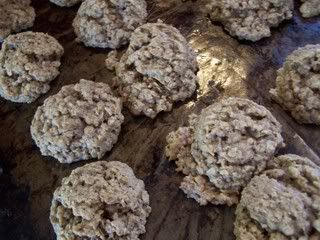 Mmmm! Cool on baking sheets for a few minutes before removing to wire racks to cool completely.