Day 74.

I tried this recipe on a whim, and the family really liked it! That is, until I mentioned to Kurt that the dish contained mushrooms. Then he was finished.

This is a great dish for vegetarians. Or if you aren't a veg., throw in some chicken like we did, and make it a full meal.

Here's what you'll need.


1/2 cup wild rice
1/2 lb. orzo
2 Tbsp. butter
1/2 lb. mushrooms
1/2 cup pecans
1 cup frozen peas, thawed
half of a 15.5 oz. can chickpeas, drained
2 cloves garlic
Salt, pepper and basil to taste

Cook wild rice as package directs.



Give the mushrooms a good dicing.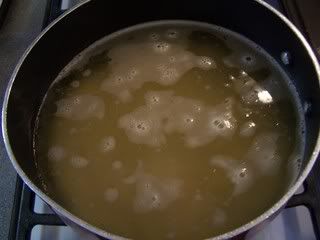 Cook orzo as package directs. Drain.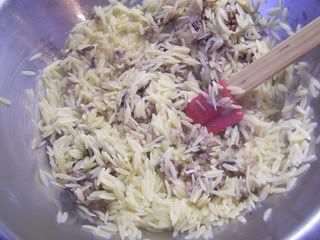 Combine orzo and rice into a large bowl.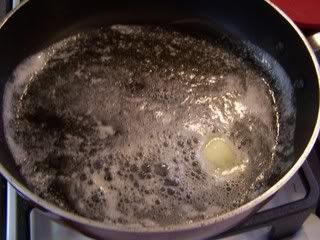 Melt the butter in a large pan.



Add the mushrooms and garlic. Season with salt and pepper.



Cook for a few minutes, then stir in the chickpeas.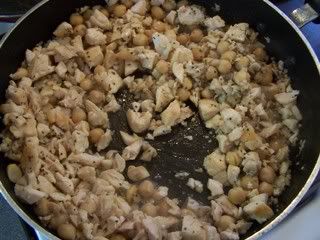 If you're putting in chicken, do that now.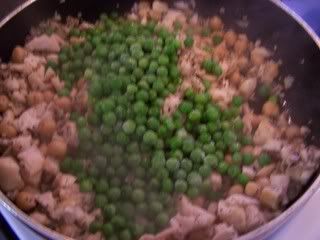 Stir in the peas. Season with salt, pepper and basil. Cook until warmed through.



Dump that mixture in with the rice/orzo.



Stir in the pecans, and a bit of parsley if you like.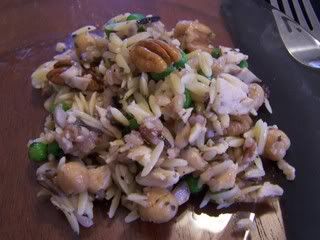 There it is. Yum.