Day 66.

This is one of our favorite go-to meals. We almost always have everything on hand to make it, so it's a good one to pull out on short notice. You can adjust the heat, depending on how spicy you like it.

Here's what you'll need.


Two boneless, skinless chicken breasts
About a tablespoon of cajun seasoning
1 cup of spaghetti sauce
1/2 box angel hair pasta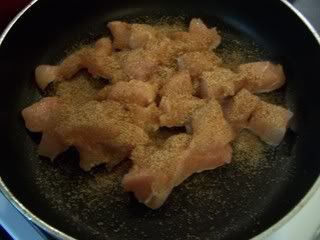 Dice the chicken into bite-sized pieces. Put it in a skillet, and sprinkle liberally with the cajun seasoning. How much seasoning you use is really up to you. We like things spicy, so we coat the chicken pretty well.



Cook the chicken through.



Add the pasta to some boiling water. Cook as package directs.



Drain the pasta.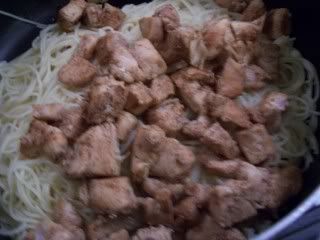 Add the pasta and chicken back to the pot in which you cooked the pasta.



Pour in 1 cup of spaghetti sauce. Stir well.



And there it is!