Day 81.

I finally invested in a new bread machine, as mine was dying. It wouldn't mix properly, and jumped all over the counter as it tried. I'm hoping to get back into the routine of making our own bread. This recipe is pretty tasty, and is good for sandwiches.

Here's what you'll need.


1 cup water
1 tbsp. vegetable oil
1/4 cup honey
1 tsp. salt
1/2 cup oats
2 cups bread flour
1 tsp. active dry yeast



Add the water, oil, honey and salt to bread machine pan.



Add the oats,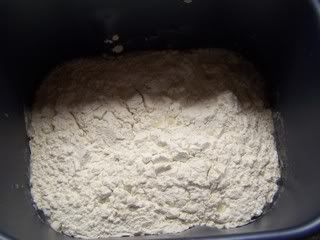 then the bread flour.



Make a small well in the flour, and add the yeast. Be sure the yeast doesn't come into contact with any liquid.



Set the machine to light or medium crust color.
Let the machine do its magic.



Ta-da!



Here's a shot of what the inside looks like. Yum!